Marcus Bailey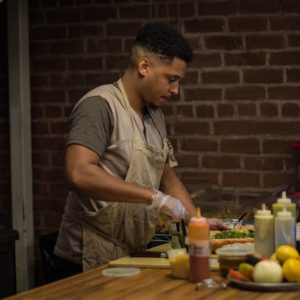 The Desoto Market is a frequent spot for myself as well as many other locals in Downtown Phoenix. The market offers a good variety of eateries to satisfy any craving. Meet, Marcus Bailey a line cook from Michigan that has found his way into the valley of the sun. Marcus works at 'The Provisionary' which is an eatery located inside of Desoto market. The provisionary is one of those places that sort of finds you, it doesn't have a large bright logo or visuals to grab attention, but it attracts subconsciously. It offers a homey atmosphere and provides a mixture of soul and southwestern food. The menu is comprised of fresh ingredients derived from local produce (which is always a welcomed).
Marcus is a man that has found his passion in the art of cooking. He takes pride in his work and is very genuine. He came to Phoenix to get away from the troubled lifestyle that his birthplace offered him. He had always loved cooking and naturally went to school to pursue his passion. His dream is to open his own restaurant in the future, however he is content with life at the time being. He enjoys that he can express his creativity and add to the menu. He worked very diligently and with care while crafting works of art. He appreciates that Phoenix offers an experience unrivaled by other cities. He enjoys exploring the city and frequents bars with his friends. The first thing that he mentioned about phoenix was that he loved the weather (except the summer heat). He doesn't see himself relocating anytime soon, as Phoenix satisfies all his needs and desires.
Siraj was born in Afghanistan and raised in Arizona. Speaking multiple languages and coming from a different background, he has been able to see his surroundings in a different perspective. He is currently a student at ASU's Herberger Institute for design and the Arts. Growing up he had always been drawn to art and found his passion for photography in college. He spends most of his time walking the streets of downtown to find local hangout spots, take pictures of the architecture as well as the people. Siraj is an outgoing person that loves to start a conversation with anyone willing to open up. His goal is to inspire others to explore, challenge themselves, and achieve what they thought was impossible.