Arizona Wilderness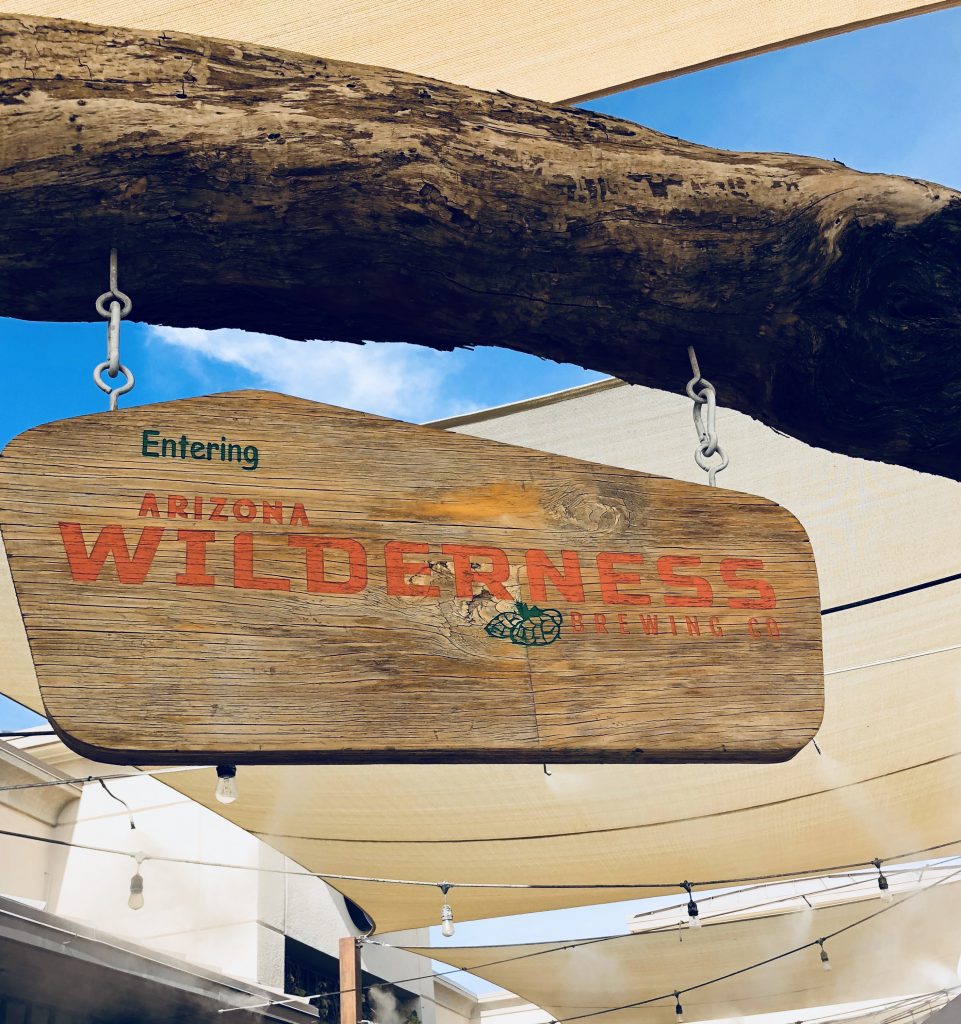 I chose to go to Arizona Wilderness this week because Arizona Wilderness rolled out their O-Line Triple IPA for the weekend. The O-Line Triple IPA was created in honor of Pat Tillman the former Arizona State and Arizona Cardinal football player. The beer has been made with 42 hops as Pat Tillman's number was 42 in college while playing at Arizona State. The triple IPA was brewed with the help of the Arizona Cardinals lineman. All the proceeds from purchasing the beer went to the Pat Tillman Foundation.
Typically a beer may have a maximum of five hops but this had 42 hops, which is incredible and outrageous so I had no idea what to expect with a beer including that many hops. I sat down and ordered one and it has an amazing citrus flavor and aroma. Even though this is an insane triple IPA it is smooth and refreshing, semi-sweet, and creamy with the citrus leading the way. With so many hops used surprisingly, none overpowered the others. It has a high 11.2% abv but the hops are not strong with a bite that numbs your taste buds. The bitterness was gone as quickly as I drank the beer.  I grabbed a four pack of 16oz cans to go so I can indulge in this fantastic beer at home.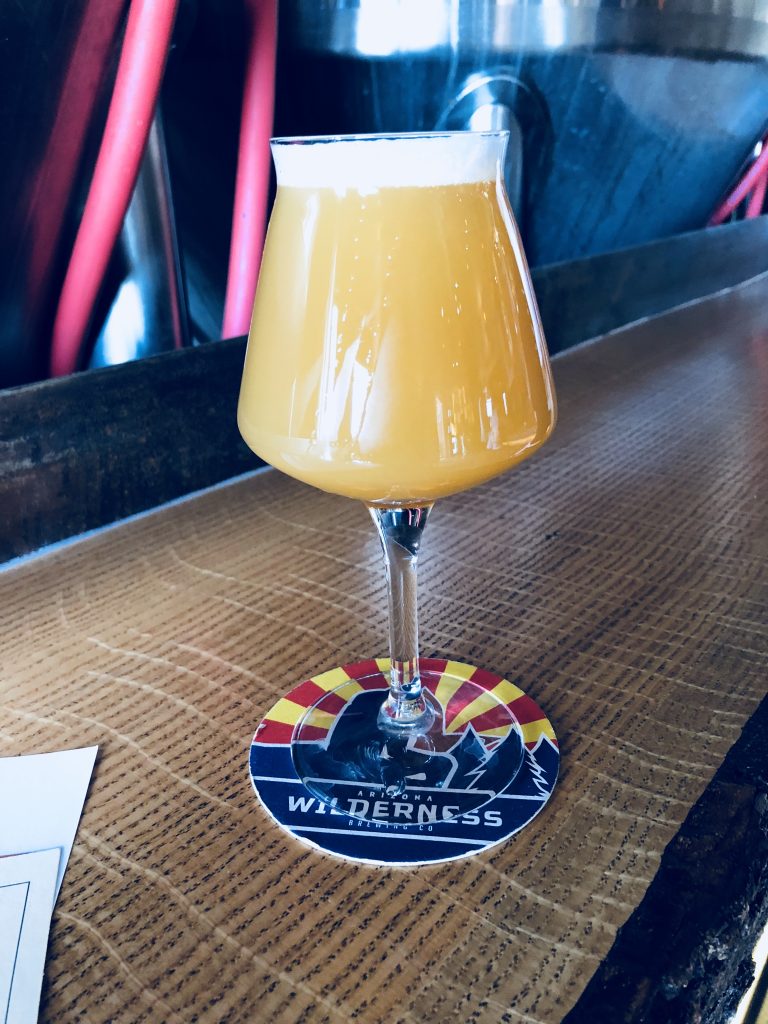 Arizona Wilderness has a very relaxed atmosphere. There is the restaurant area and the tasting room consisting of a bar the bleeds out onto the patio. It has a relaxed atmosphere as people were meeting each other and conversing, dogs sitting on the patio since they are pet-friendly, and many cheering in honor of Pat Tillman as they drank the O-Line Triple IPA. The discussion quickly turned to Pat Tillman and his legacy in Arizona and what he stood for between many people who ran in the Pat Tillman run earlier in the day. It is great to see the impact Tillman has made on the community and the state of Arizona. Arizona Wilderness brought beer and non-beer drinkers together to enjoy this beer all the same for a great cause.
There is a large selection of beers with the menu changing constantly. I got a flight served in a slab of tree bark consisting of four beers sitting in it. Earthing the Vortex Farmhouse Ale was ordered in a high frequency by the customers coming in, so I chose this to be a beer in my flight along with the Superstition Coffee Stout, Boilgiest and the grapefruit gose. The one that stood out in this flight was the Earthing the Vortex, dark in color yet satisfying, as it is smooth with little bitterness.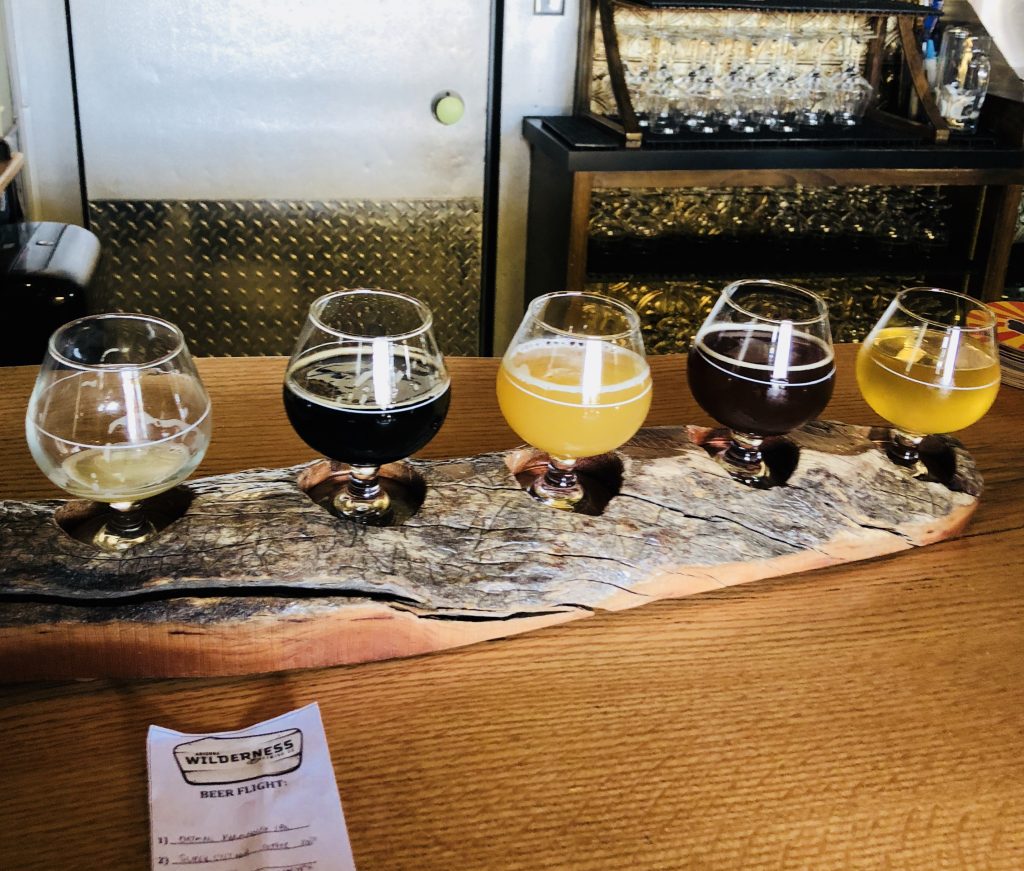 Arizona Wilderness is a place that not only has a fantastic line of beers but a great surrounding of people and service that has made it a top choice in Arizona breweries to visit. I mentioned the limited O-Line Triple IPA since that is why I went to Arizona Wilderness but their stable of beers is fantastic and well known in the beer community. This place is a go to when looking for beer and a wonderful place to enjoy.
Craig Maddux was born in Phoenix, Arizona. He has a B.A. in English with an emphasis in Creative Writing and a minor in film and media studies from Arizona State University. Writing has been a passion of his since the time he was able to pick up a pencil. Outside of writing, Craig has recently found a new passion in brewing beer. He likes to call himself a "beer enthusiast," enjoying any type of beer thrown his way, with a preference of one of the many local craft brews that Phoenix has to offer. Craig can be seen around the Phoenix area watching his beloved ASU Sun Devils. Feel free to stop him and say hi if you see him around.