Slip into Summer at Slide Rock State Park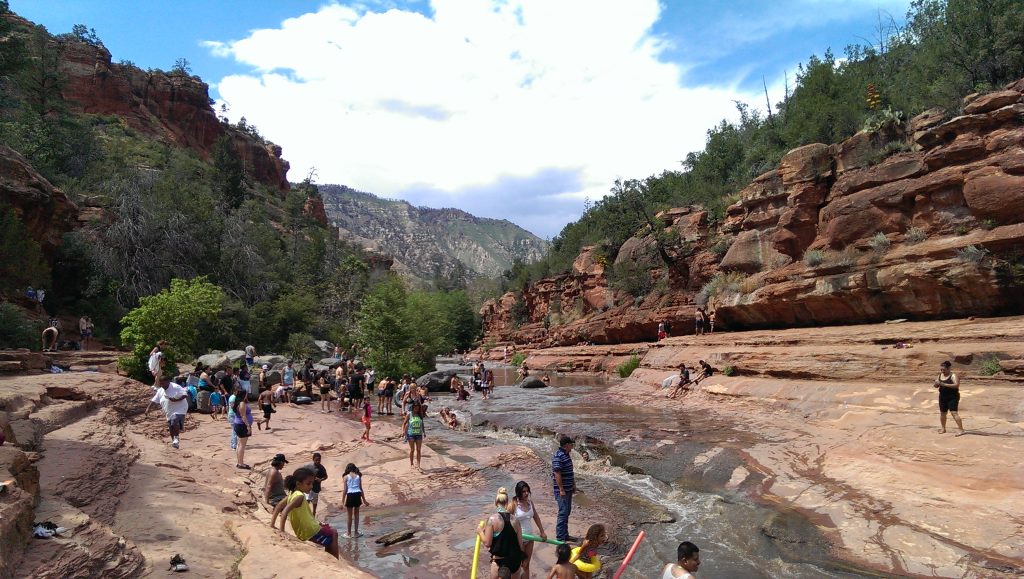 Those of you who have kids or are in college might be gearing up for the wonderful and carefree summer season. Summer vacations, trips to the beach, anything you can do to cool off in the intense summer heat. But how do you cool off in the scorching desert that is summertime Phoenix? Simple, you can check out the called Slide Rock State Park.  Named for a unique sandstone 'slide' formation, it's one of the more well-known swimming holes in here in Arizona.
Located in Oak Creek Canyon, 7 miles north of Sedona, Arizona, the state park is a 2-hour drive north of Phoenix if you follow the I-17N up and then get on Highway 179N. If you haven't been to the Sedona area, it's worth taking a half-day trip up from Phoenix on a weekend to really take in the scenery and fresh air. Most of the town is situated among beautiful sandstone formations and red rocks, giving the landscape an almost surreal look.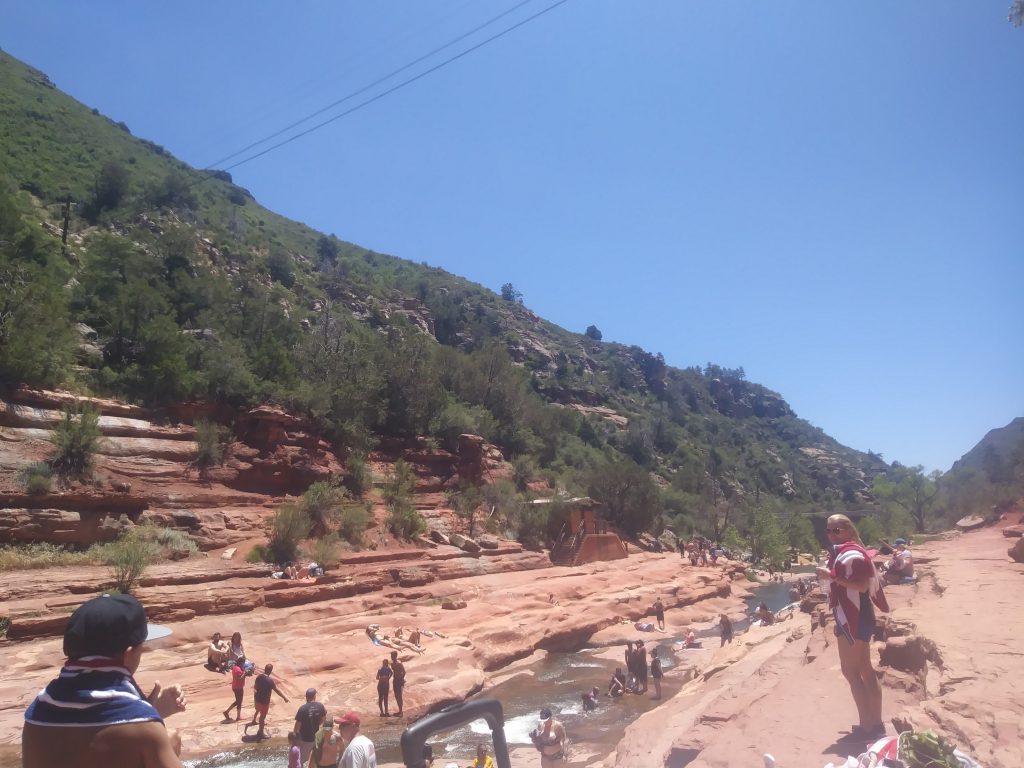 The 'slide' in Slide Rock is a carved out sandstone formation that ended up creating a natural, slippery, slide from the runoff from the mountains. It is about 80 feet long, 4 feet wide and empties into a shallow swimming hole that gets deeper as you move downstream. In fact, there are two diving ledges, one about 6' tall and no deeper than your average swimming pool. The other is about a 20ft cliff diving ledge, definitely for more experienced swimmers as there are no lifeguards on duty.
You should know that the temperature of the water ranges from cool to freezing cold, and that even in the midst of the summer heat, some people are overwhelmed by the icy water. But beyond just getting in the water, Slide Rock is a beautiful, leisurely park, with beautiful scenery of the mountains and trees, an opportunity to sit down on the sandstone and sunbathe, have a daytime picnic, go for a short hike upstream of the river. Located within the park is the Pendley Homestead, a historical site that also includes an apple orchard to stroll through.
The park is currently running from 8 am to 7 pm, from May 1st until Labor Day. There is an entrance fee, per vehicle, of $20.00 from Mon. to Thurs. and $30.00 on Fri. thru Sun. there is a large parking space available near the park so it is rarely an issue; that being said, showing up early is probably the best way to enjoy quality parking and less of a crowd at the park.
Nowed Patwary is sort of a fish out of water, or snow if you will. Raised in Toronto, Canada, he moved to Phoenix in 2012 to study at Arizona State University, completing a Bachelors in Psychology in 2016. Obviously, the huge difference in climate took him some time to get used to (especially the summers!), but over the years he really began to explore and appreciate the locality and uniqueness of Phoenix. The natural scenery, the parks, mountains and hiking trails all provided him with fresh and new experiences that helped him discover his inner adventurer and nature lover. Since outdoor activities tend to work up quite an appetite, Nowed has also spent time checking out Phoenix's wonderful and diverse foodie scene. When he's not hiking, biking or eating, he's usually watching movies or just hanging out with friends.