The Duce
I was not planning on writing about The Duce today, but I was so attracted by the curious place that I could not help myself. Upon entering the large building on 525 S Central Ave, my attention was first drawn to a full-sized boxing ring right in the middle of the restaurant.
Walking up to one of the bartenders, I asked what sort of place the Duce was. His response was a scratch of his head and stating, "That's a hell of a question…" I am still not quite sure what the Duce is, but I will do my best to explain. From what I understand, it is a bar/restaurant/community center/clothing store/gym/music venue. Still with me?
They've been in business for over seven years now and the food they serve is based on the owner's mother's recipes she served to him back in Chicago when he was a kid. Their signature meal is a mac & cheese muffin, which is not as bad as it sounds. Furthermore, the menu is varied so even if you are bound to find something you like. One of the waitresses told me though that their most popular items are their cheeseburger sliders and their mac & cheese muffins, which are a lot tastier than they sound.
Their cocktail selection is marvelous and most of their concoctions are based on only the freshest fruits and everything is made from scratch. My two personal favorites were the Strawberry Limeade and the Basil Gimlet that I took a picture of before I drank it up. Both were expertly crafted and the freshness of their ingredients as well as the skill of their bartenders shined in every drink they made for me.
From what it seems like though, the guests come here for a lot more than just the food and drinks. Hula-hoops, ping pong tables, giant connect four boards, cornhole sets, punching bags, Jenga. They leave all of these things out for guests to play with while waiting for their food or nursing their beverages.
I was able to chat with a lovely woman by the name of Anna who worked there. She told me a bit more about the place. She mentioned that there is rarely a dull night and there is almost always something going on. She recommended I come in on a Sunday when they make use of that boxing ring I mentioned in the first paragraph and then serve all the fighters mimosas when they are done beating the heck out of one another. If you are more of a lover than a fighter though, their Facebook page states that once per week, they have a Latin Dance night and get free lessons. Anna went on to tell me that some of their events are more spontaneous than others. "Sometimes a guy with a guitar will come in. He didn't phone ahead or tell anyone he was coming, he just sat down and started playing! We encourage stuff like that!"
Finally, Anna made sure to mention that The Duce would only continue to get more popular. When I asked why this was, she told me that the place had been featured on Food Network's "Diners, Drive-Ins and Dives." Turning pale and fighting back tears, I buried my sorrows in my (delicious) Basil Gimlet. Guy Fieri had beaten me once again…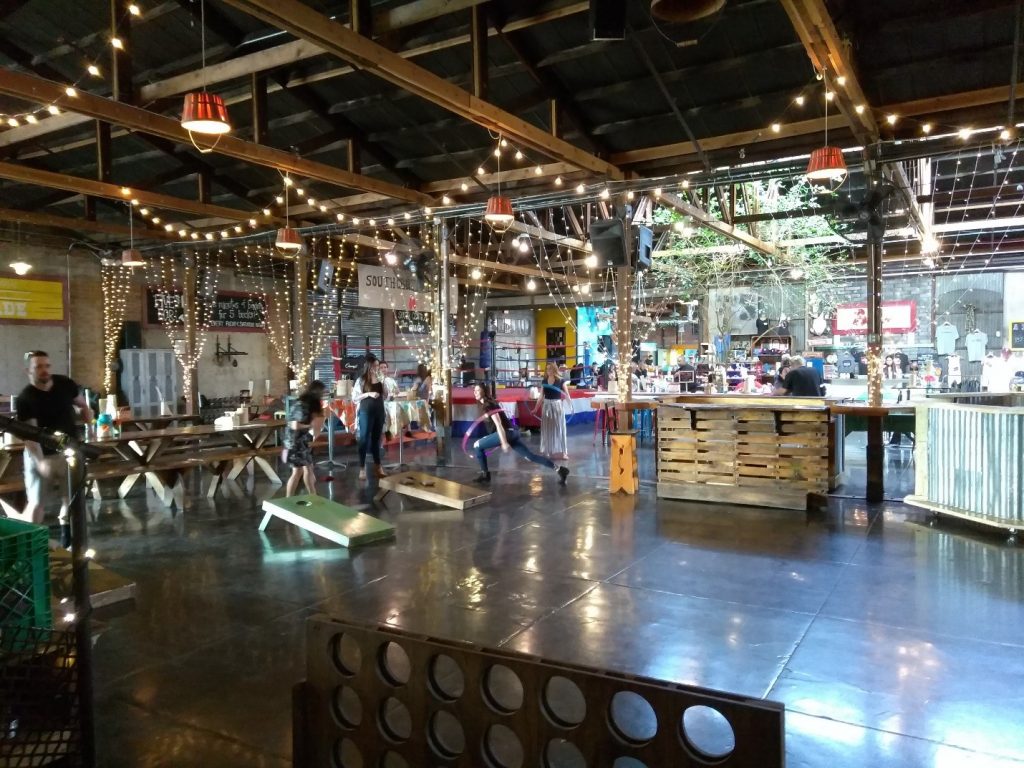 Daniel Rubin has lived in the Phoenix, Metropolitan area for over decade. Graduating from Arizona State University, he quickly realized he had a passion for writing. A strong lover of the city he grew up in, Daniel focused the subject of his writing on the Downtown Phoenix area. He can often be found walking up and down the streets of Roosevelt Row, enjoying the scenery that has influenced his writing style, or in one of the various bars downtown to partake in a rum and coke. He seeks to further promote his writing talent as well as give back to the city that has had such a profound impact on his life.