The Litchfield Taproom by Peoria Artisan Brewery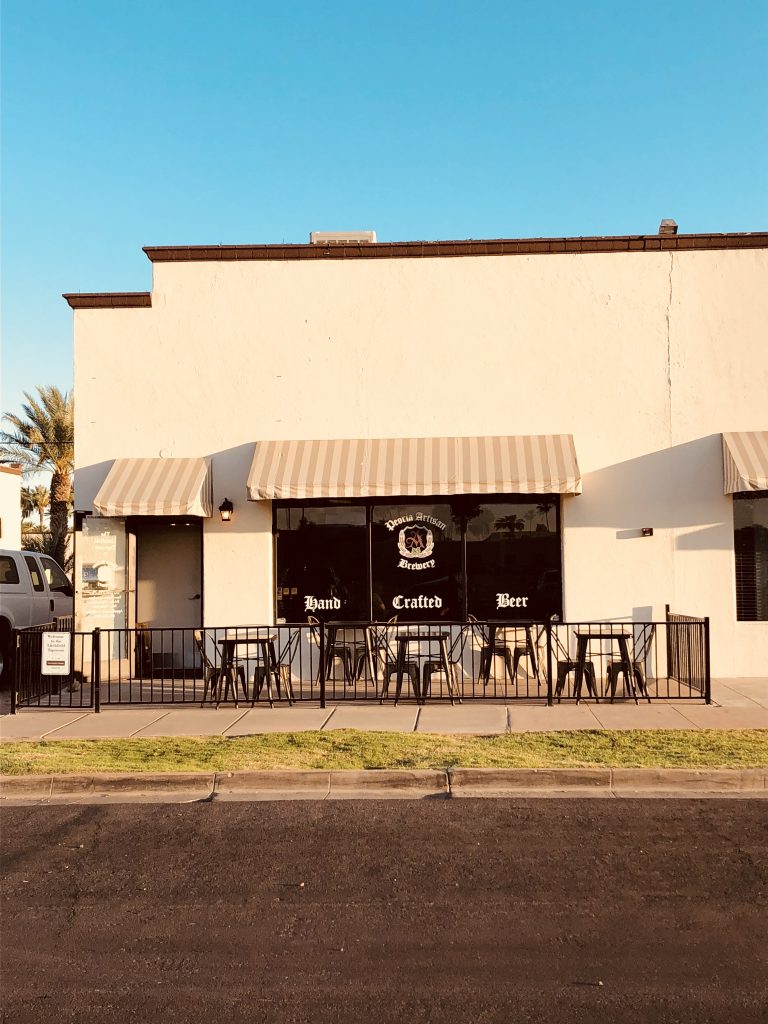 The Litchfield Taproom is a small building that looks like an old coffee shop. It is the first location for Peoria Artisan Brewery where small batches are brewed, as they also have a second location, which is a gastropub in Peoria. Inside it the Litchfield Taproom it is tiny.
The room consists of a bar top with five barstools, four tables and a high-top table. There is a small patio out front to sit outside which provides more room.  A chalkboard hangs behind the bar with the list of the eight beers that are brewed here.
I started with a flight that consisted of half the beers on the list and the four I chose: Haboob Black IPA, Angus Boy Scottish Ale, Hazy New England IPA, and Honeysuckle Street Amber Ale. The Haboob Black IPA was impressive since it looked like a stout being a dark black color from the roasted coffee malt. The Hazy New England IPA is the standout of these four with the citrus aroma and golden color. A refreshing flavor that is smooth with little bitterness. The hops peak through to give you the flavor and let you know it is an IPA. Since it is a New England IPA unlike a West Coast IPA the bite from the hops is not strong and overbearing.
The overwhelming most popular beer is the Savannah Marie IPA. This is their flagship beer being a dark golden color with a small amount of head retention.  It is hopped with all the C's hops; Chinook, Cascade, Centennial, Columbus, Citra and dry hopped as well with Simcoe, Citra and the infamous Cascade. It had a strong aroma of hops like a great IPA would, especially a flagship beer.
While sitting at a table there were gentlemen sitting at the bar and I felt like I was watching Cheers. These guys were obviously regulars harassing each other, talking movies and stories about Phoenix. It gave vibes of sitting and listening to your uncle or grandfather tell stories about back in their day. It made the small room seem like a place where anyone can feel part of the conversation.
I enjoyed this taproom as it is small but had a great vibe. The beer is what brings the people because they do not serve food other than a few snacks like soft pretzels. There is no glitz and glamour just great beer.
Craig Maddux was born in Phoenix, Arizona. He has a B.A. in English with an emphasis in Creative Writing and a minor in film and media studies from Arizona State University. Writing has been a passion of his since the time he was able to pick up a pencil. Outside of writing, Craig has recently found a new passion in brewing beer. He likes to call himself a "beer enthusiast," enjoying any type of beer thrown his way, with a preference of one of the many local craft brews that Phoenix has to offer. Craig can be seen around the Phoenix area watching his beloved ASU Sun Devils. Feel free to stop him and say hi if you see him around.