The Shop Beer Co.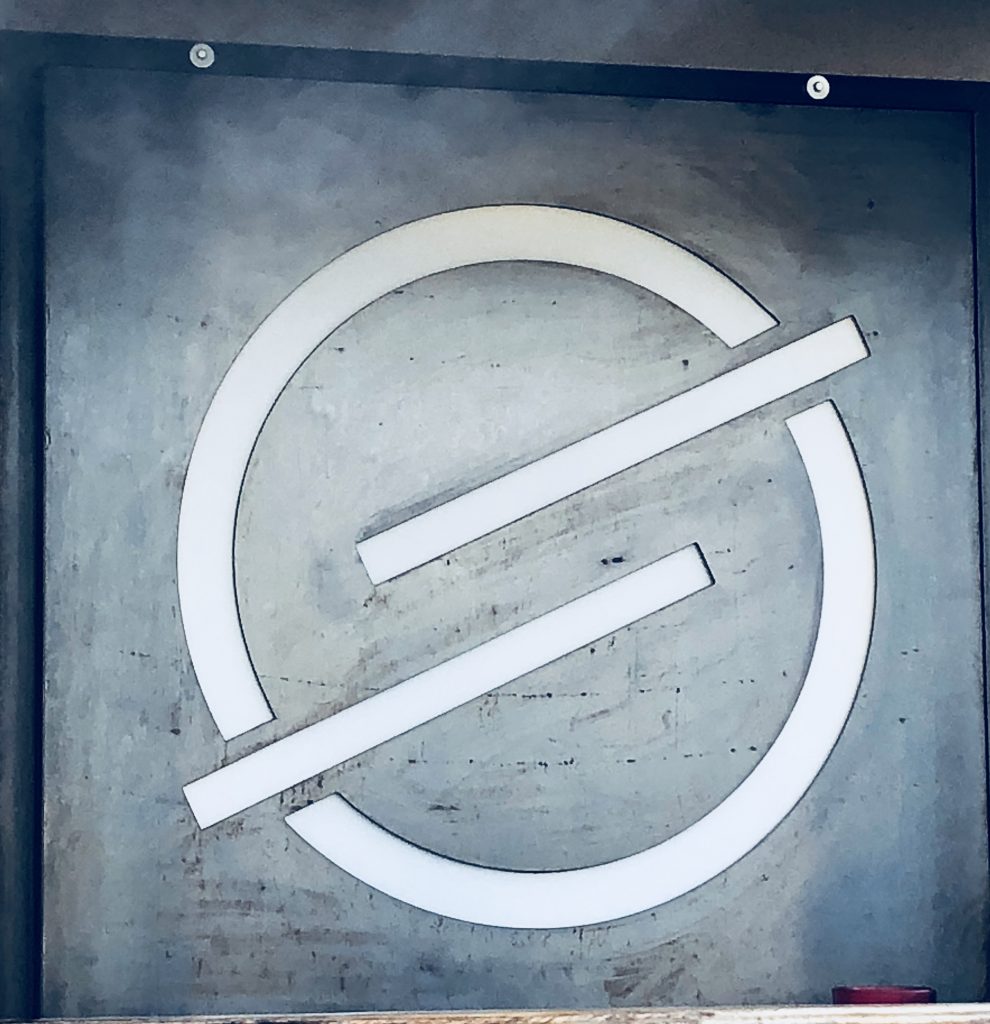 As recommended by a gentleman I met at another brewery I decided to make a stop at The Shop Beer Co. This place looks like a small house covered in shrubbery from the street. It is lodged between apartments and another business so as most of these small breweries it is easy to miss.
Upon entering the brewery, you can see two large digital screens hang behind the bar with the list of the current beers they have on tap. As I take a seat at the bar a sign is propped up for display reading "Best of Phoenix Best New Brewery 2017" which gives a promising outlook on the beer and this establishment in general. There are no TV's hanging, just the bar with open rafters and air ducts, punk and heavy metal music rocking over the speakers, and groups of people congregated talking about their first brewery experiences.
The crowd is younger as The Shop Beer Co. is in Tempe close to ASU. There is a small patio out front and a larger patio area out back with awnings and misters to keep cool during the hot summer days. A food truck is conveniently staged to feed the hungry customers, as there is no food on site but recommended to bring your own if you would like.
Like myself many new customers were trying their beer for the first time and purchasing flights by playing a guessing game of which beers to add to their flight, this I can easily relate to. In my flight, I ordered the Church Music Juicy IPA, Coffee Brown Nut Brown, Experimental Beer 006 Grapefruit Sour, and Experimental Beer 007 Hazy Kolsch. Ordering experimental beers sounded intriguing rather than going IPA heavy on this flight.
Expecting my favorite to be the Church Music Juicy IPA since I have a soft spot for IPA's I was thoroughly surprised when it was the Experimental Beer 007 Hazy Kolsch. Although the Church Music IPA was good being sweet with hops that didn't have a heavy bite and linger the Hazy Kolsch won me over. The Hazy Kolsch is not as hazy in appearance as expected by the name; it is a clear yellow beer with good head retention. This is a very smooth beer easy to drink with the hops not overpowering making this low in IBU's. It is a good beer to drink out in the hot sun on a summer day.
To get my IPA fix in I ordered the Tropic Like It's Hot Triple Milkshake IPA. This is a high 10.1%. It has a very citrusy aroma and a hazy yellow, creamy appearance. The taste is a full mouthfeel that is creamy and smooth to drink. It is similar in taste to the O-Line Triple IPA from Arizona Wilderness. It is easy to drink with the hops not overpowering and bitter with the bite being upfront with 35 IBU's. The sweetness makes you crave the next sip tasting like a tangy orange juice.
While enjoying my beer I noticed many people were ordering a beer that was a light reddish color like a strawberry milkshake, thick and frothy. This was a Neonic Red Fruit Pop Sour Ale made with strawberry and guava. This was different from any beer I have seen previously. With practically no bitterness and is 4.9%, I asked about this unique beer and I was told it is a great beer that is not bitter yet slightly stronger than your normal light beer.
The Shop Beer Co. is a fun spot to grab a drink with a young crowd and good beer. There are a variety of beers that first-timers can find an enjoyable drink as well as the regulars going to their favorites. It has an atmosphere of a bar with no TV's to distract you from sparking up a conversation with those next to you.
Craig Maddux was born in Phoenix, Arizona. He has a B.A. in English with an emphasis in Creative Writing and a minor in film and media studies from Arizona State University. Writing has been a passion of his since the time he was able to pick up a pencil. Outside of writing, Craig has recently found a new passion in brewing beer. He likes to call himself a "beer enthusiast," enjoying any type of beer thrown his way, with a preference of one of the many local craft brews that Phoenix has to offer. Craig can be seen around the Phoenix area watching his beloved ASU Sun Devils. Feel free to stop him and say hi if you see him around.