This Dramedy Is For People Of All Ages, Younger And Older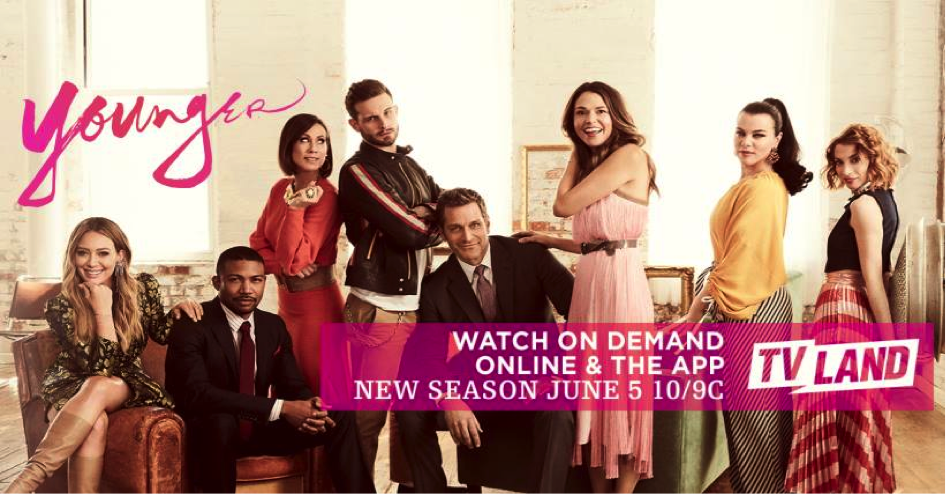 I love dramedies that can make me laugh and forget my troubles. I especially love dramedies with female leads. Though, I have noticed that a majority of TV comedy-dramas typically star male leads. Shows of this genre with female leads are within the minority. However, strides have been made within the past couple of years in TV to incorporate more leading women, dramedies included.
So do you enjoy dramedies with leading women? Are you looking for a show with great fashion, well written characters, and has a deeper message? Then I have just the show for you. This dramedy is TV Land's Younger.
This show was developed and produced by TV producer/screenwriter Darren Star (notable works include Sex and the City, Melrose Place, and Beverly Hills, 90210), and was based on the 2005 novel of the same name by author/entrepreneur Pamela Redmond Satran. TV Land renewed Younger for a fifth season on April 20, 2017, and the fifth season is scheduled to premiere June 5, 2018. Younger follows Liza Miller (played Sutton Foster, Bunheads), a woman who lies about her age in order to find a job within the competitive world of publishing. This show also follows Liza's friends Maggie Amato (played by Debi Mazar, Extra Virgin), Kelsey Peters (played by Hilary Duff, Lizzie McGuire), Lauren Heller (played by Molly Bernard, Transparent), and Josh (played by Nico Tortorella, The Following), as well as her bosses Diana Trout (played by Miriam Shor, The Americans) and Charles Brooks (played by Peter Hermann, Blue Bloods).
This dramedy's wardrobe department does a wonderful job of styling the actors. Jacqueline Oknaian Demeterio (previous work includes shows Ugly Betty and The Big C) is the show's costume designer. She, as well as the rest of the wardrobe department, are able to perfectly portray the characters' personalities and traits through their fashionable clothing. I find the stronger, confident characters are styled in tighter fitting and bold color clothing, while the freer, laid back characters are clothed in loose fitted and casual styles. I also find that the lead character Liza, though she pretends to be young, comes across as young because of the way she's styled by the wardrobe department.
Not only will you think this show's fashion exceptional, but you will also think this of its writing. Younger's characters are written with multiple dimensions, which is not typically seen in other dramedies. The writers construct characters that have depth and humanness. Lead character Liza is strong and loveable, but complicates her life in order to support herself and her daughter. She finds herself in a constant struggle between the new life she's created for herself and the old one that she cannot seem to escape.
Kelsey Peters is an intelligent young book editor at Empirical Press, and friend to Liza. Being she had a difficult childhood, she compensates by being overly confident, ambitious, as well as guarded. But through Liza's friendship, she begins to let down her walls. Liza's boss Diana is a successful marketing executive with Empirical Press, who is strong-willed and somewhat conceited. Even though she succeeds in business and is a failure within her personal life, she soon learns to rely on Liza as more than an assistant, but as a friend.
Then there is Maggie Amato, an out and proud lesbian, and Liza's best friend/roommate. She's outspoken, creative, and tough. But she's also nurturing when it comes to her family and friends. As you can see, Younger's writers make their characters complex and three-dimensional.
As the premise of this show suggests, Younger addresses the issue of ageism when it comes to women in the workforce, and in general. The show highlights this issue through lead character Liza. Forty year old Liza is viewed as being past her prime and too old to start anew, while millennial Liza is treated as fresh, adept, and lively. Younger fights the stigma of ageism placed on women by showing that age is simply a number, and not a measure of one's capabilities or vitality.
There needs to be more TV comedy-dramas with leading women. It not only empowers women, but shows that women are just as qualified to lead within a TV dramedy as men are. This show has everything you might want in a dramedy with female leads: wonderful fashion, well-constructed characters, and a deeper message. TV Land's Younger is a show that you will come to love and enjoy watching, immensely.
Alex Horton is a 28 year old Phoenix native, born and raised. After graduating with her Associates in Science from Phoenix College in 2010, she transferred to Arizona State University. There, she majored in biological sciences with an emphasis on animal physiology and behavior. The plan was always to become a Veterinarian. But, as with most life plans, they changed. Each day she found herself more passionate about writing and literature, and less about the sciences. So, she switched majors and, in the spring of 2014, graduated with her Bachelor's in English Literature. In her spare time, Alex loves to watch television religiously, write short stories and flash fiction, read YA and mystery novels, and watch gaming vids online. Furthermore, she is a part of the LGBTQ+ community, being an open and proud transwoman. She hopes to further her writing abilities, as well as her writing career.