This (Probably) Will Easily Become Your Favorite Dramedy
I don't know about you guys, but I love my TV comedies. I find them to be an essential in my everyday life. It's nice to be able to just relax, forget about my troubles, and watch a show that is designed to make me laugh. Afterall, I'm pretty sure I've heard somewhere that laughing is good for you.
On that note, I also love my TV dramas. I secretly love getting emotionally invested in characters' lives. Even more so, I love it when a TV drama talks about the more serious subject matter or expresses some kind of deeper message. But, what I love even more than these two types of television show genres apart, is them together. Television dramedies seem to be where it's at these days. One TV dramedy, in particular, that I find to be an excellent watch is ABC's Kevin (Probably) Saves The World.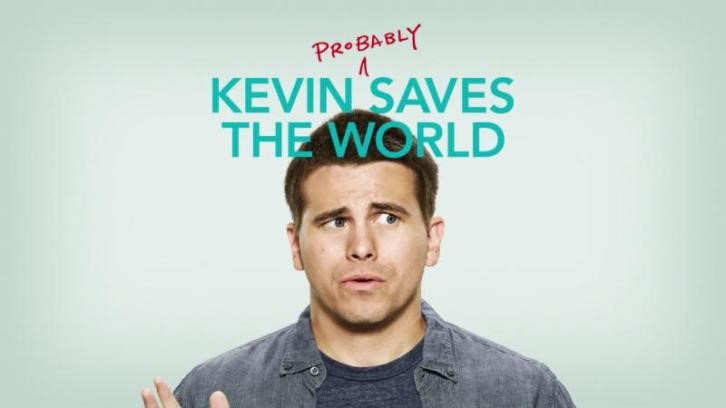 This ABC hour-long dramedy was created and produced by Michele Fazekas and Tara Butters. It was picked up for a sixteen-episode first season, and just recently had its season finale on March 6. Kevin (Probably) Saves The World follows lead character Kevin (played by Jason Ritter, Another Period), one of the main protagonists of the show, as he learns from a celestial being named Yvette (played by Kimberly Hebert Gregory, Vice Principals) that he is a righteous soul and is tasked with finding thirty-five other righteous souls in order to save the world. Now, I understand that just based on that premise alone, you might surmise that this show is overtly religious. But, that couldn't be further from the truth.
Does this show use spiritual themes and tropes? Yes. Does this show go in depth about/focus solely on religion or religious ideas? No. The best way that I can describe this show's take on anything religious is it's "spiritual but not affiliated". If anything, I'd say Kevin (Probably) Saves The World is a television dramedy about being a kind and compassionate person to others, then it does anything religious or spiritual. But, I will say that this show has something to offer everyone, religious or not.
Why is this show worth watching? For starters, this TV show has a deeper message about how being a compassionate individual benefit our world for the better. It's also a testament to the show's writers, that they can write a show with a deeper meaning while also making it comedic. This leads me to the next reason why this show is worth watching.
Kevin (Probably) Saves The World has a very I Love Lucy physical comedy style to it, which I consider pretty refreshing. I find that many comedies nowadays rely heavily on one-liners and zingers, and completely disregard an actor's ability to deliver physical humor. This is something that this show has not overlooked, as the actors are able to deliver the physical comedy wonderfully. There are many instances within this show where the characters Kevin, Yvette, and Kevin's sister Amy (played by JoAnna Garcia, Once Upon A Time) get themselves into some very comical situations and end up being the comedic relief within a scene.
Lastly, this show is worth watching because the characters are well written. It can be hard to get emotionally invested in characters that are one dimensional. The writers of Kevin (Probably) Saves The World have done an excellent job at creating well-rounded people. The character Kevin has gone through many hardships in his life. After meeting Yvette and learning he's a righteous soul, he tries to better himself, as well as the lives of the people around him.
Then you have celestial being Yvette, who has preconceived notions of humanity and Earth. But, over the course of the season, she slowly learns what it really means to be human. Finally, you have the character, Amy. She's a single mother who's dealt with some hardships of her own, which have left her somewhat dispirited about life. But with the help of her twin brother Kevin, she once again becomes increasingly open to the things life has to offer.
I think Kevin (Probably) Saves The World is one of the best dramedies on television. It's a show that gets you emotionally invested in its characters. It's a show that is also not afraid to discuss the serious subject matter like depression, loss, suicide, and grief. It doesn't shy away from trying to deliver deeper messages throughout the show. Plus, I know this is a dramedy that will undoubtedly make you laugh. If you need to relax, forget about your troubles, and you want to watch something funny as well as meaningful for an hour, then ABC's Kevin (Probably) Saves The World is most definitely for you.
Alex Horton is a 28 year old Phoenix native, born and raised. After graduating with her Associates in Science from Phoenix College in 2010, she transferred to Arizona State University. There, she majored in biological sciences with an emphasis on animal physiology and behavior. The plan was always to become a Veterinarian. But, as with most life plans, they changed. Each day she found herself more passionate about writing and literature, and less about the sciences. So, she switched majors and, in the spring of 2014, graduated with her Bachelor's in English Literature. In her spare time, Alex loves to watch television religiously, write short stories and flash fiction, read YA and mystery novels, and watch gaming vids online. Furthermore, she is a part of the LGBTQ+ community, being an open and proud transwoman. She hopes to further her writing abilities, as well as her writing career.