8-Bit Aleworks
Sitting in the back of an industrial complex surrounded by dance and martial arts studios, a brewery is the last thing you would expect to see. On the Westside of the valley off of Fairway Drive (in between Avondale Blvd and Dysart Road) and Van Buren lies a small beer gold mine by the name of 8-Bit Aleworks.
8-Bit Aleworks lives up to its name as it is a video game themed brewery that brings back the nostalgia of all-night gaming sessions on summer breaks as a kid.  The theme of this brewery is ingrained in every detail. 8-Bit Aleworks has a tasting room comfortable enough to sit and enjoy the beer while playing old school video games. Nintendo and Super Nintendo consoles with controllers sprawled across the tables are ready to play. The walls are plastered with Super Mario Bros. graphics and 8-bit music hums from behind the bar top.
I was excited to try the beer as it pumped from the Nintendo controller taps. There are four flagship beers at 8-Bit Alehouse aptly named White Mage (wit), Black Mage (stout), Hopsassin's Creed (Session I.P.A.) and Legend of Zymur (Double I.P.A.) I wanted a taste of each, so I instantly went for a flight. The flight was not presented on a slap of wood, like other brewery's, but instead a warp pipe from Mario. The creativity of this brewery prior to tasting a beer had me sold from the beginning.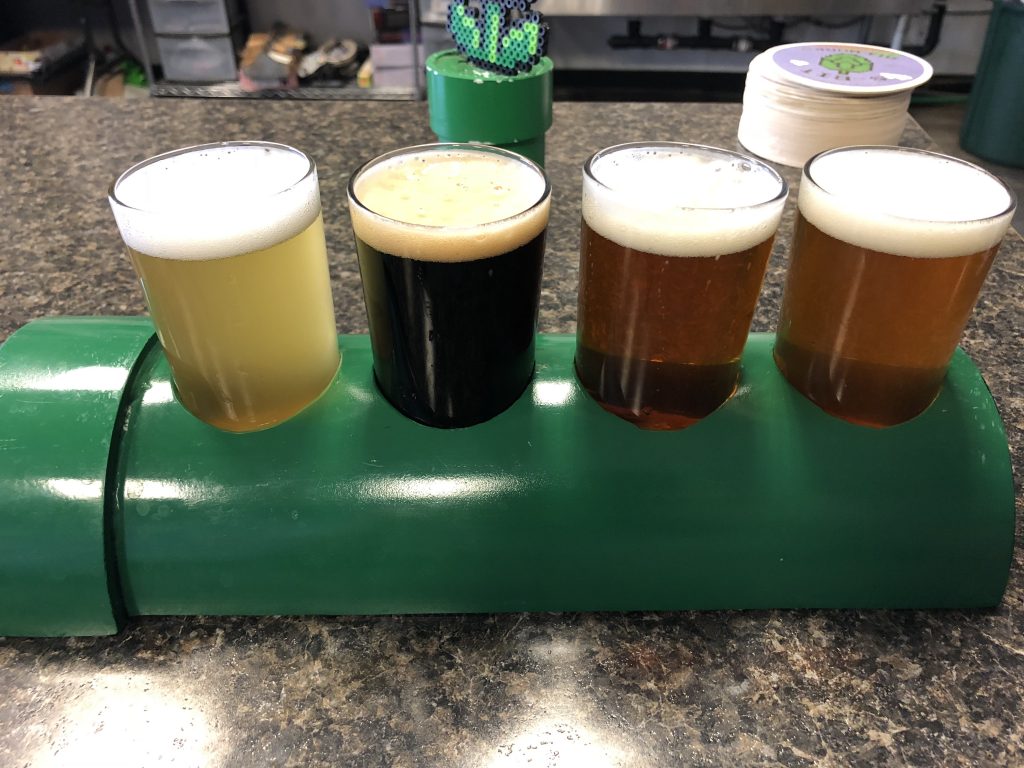 Now the part that I came for, and what this brewery ultimately stands on, its beer. The gentleman serving me the beer recommended me to drink the double I.P.A. last, in which, I gladly obliged. I started with White Mage and moved on down the line to Legend of Zymur. As I tasted each I asked others sitting at the bar beside me which beer was their favorite and overwhelmingly it was the Black Mage stout. After the flight I bought a pint of the Black Mage because it was a smooth stout where the flavor of the cocoa nibs linger on your tongue. I also had to have another of my personal favorite, the Legend of Zymur, served only in 8oz glasses being 9.1%, because it was smooth and easy to drink for being a double I.P.A as the citrus stood out from the Simcoe and Citra hops.
Outside of the flagship beers 8-Bit Aleworks also has their special beers, hacked beers, that are variations of the flagships with other flavors. The most recent being Hopsassin's Creed with cantaloupe.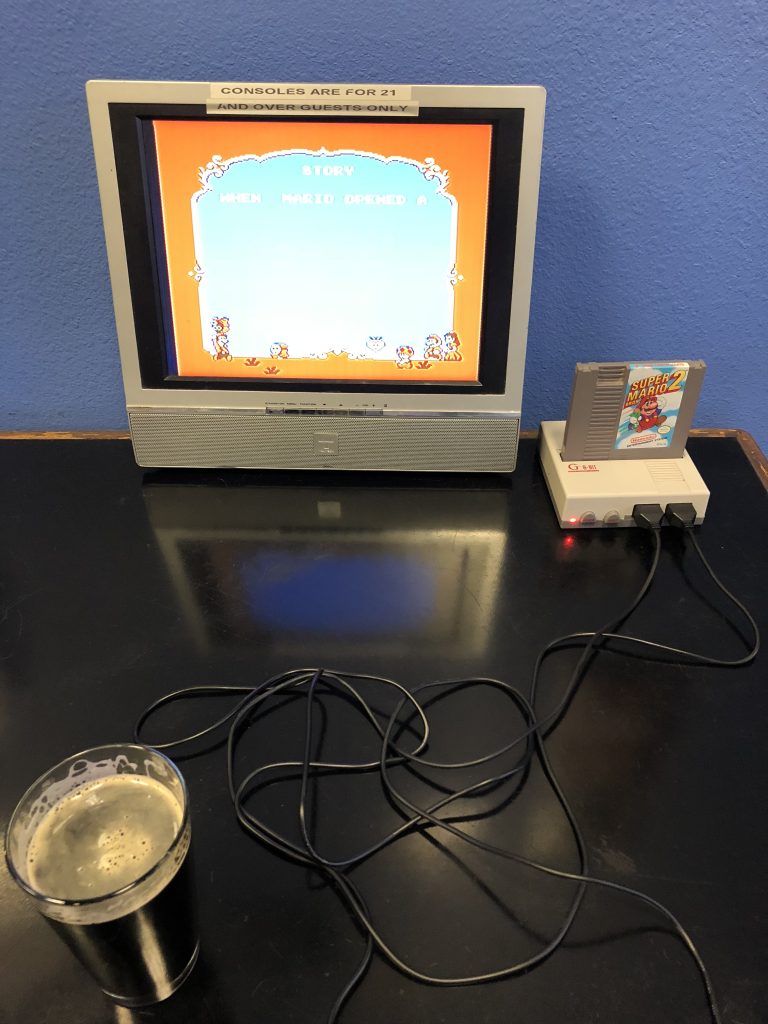 8-Bit Aleworks is a ruby hidden under a pot that needs to be broken. This gem is buried in an industrial complex but it stands on it's own. If you are on the west side, see a booth of 8-bit Aleworks at Comic-con or a beer festival, stop by and try their beers. Grab a few pints or a growler to go! It is worth it. This will be a frequent stop for me now on. As I was told, their clientele is largely due to word of mouth I will help spread the word.
Craig Maddux was born in Phoenix, Arizona. He has a B.A. in English with an emphasis in Creative Writing and a minor in film and media studies from Arizona State University. Writing has been a passion of his since the time he was able to pick up a pencil. Outside of writing, Craig has recently found a new passion in brewing beer. He likes to call himself a "beer enthusiast," enjoying any type of beer thrown his way, with a preference of one of the many local craft brews that Phoenix has to offer. Craig can be seen around the Phoenix area watching his beloved ASU Sun Devils. Feel free to stop him and say hi if you see him around.