Freak'n Brewing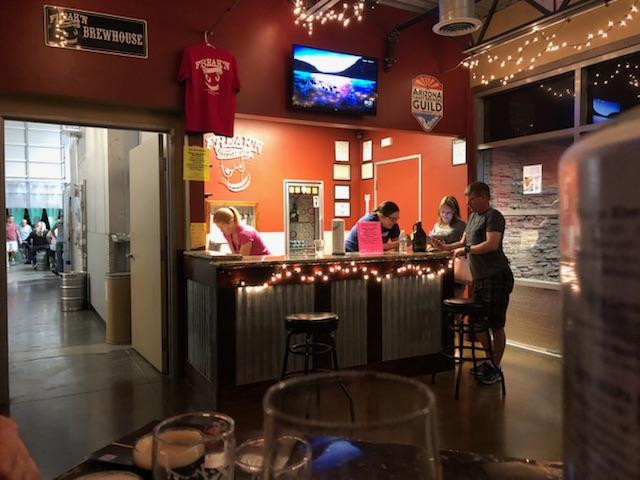 Freak'n Brewing is a small brewery located off the Loop 101 and Olive in the Olive Business Park. It is tucked in the back of an industrial building that is easy to drive by like I did. The taproom is small with high top three tables and a bar top.  The friendly ladies behind the bar were working their way through the line to make sure everyone was served.
I ordered a flight, as that seems to be the best route to go when going to a new brewery allowing me to have a chance to sample all of the beers the brewery has to offer. The flight I ordered was of 8, which serves all of the beers they currently have on tap, in a muffin pan. Each beer of the flight had its own character including the various IPA's.
They currently have an Orange Kiss Kolsch that smells like citrus while being light in color and very smooth to drink. If you enjoy the citrusy beer I would recommend this, with a good mouthfeel and citrus taste that is refreshing. There is also a red, a white IPA, Brown Noser their brown ale, DRIPA, Sweet Thang their imperial milk stout, raspberry wheat, and an IPA.  Of these, the Freak'n Raspberry Wheat stood out the most to me. Freak'n Raspberry Wheat is their most popular beer. It was a light red color with the sweet aroma of raspberry bursting out, with a sweet raspberry flavor that matches the aroma. You can easily drink a few of these without realizing how many you have had.  The IPA, Faced IPA is what I automatically lean towards because it is an IPA, I also I got a pint of it as well, is a clean beer that allows the hops to hang around to finish off the great mouthfeel this beer provides. It has a citrus aroma being dry hopped with Citra, Simcoe, and the iconic hop used for the west coast IPA, Cascade.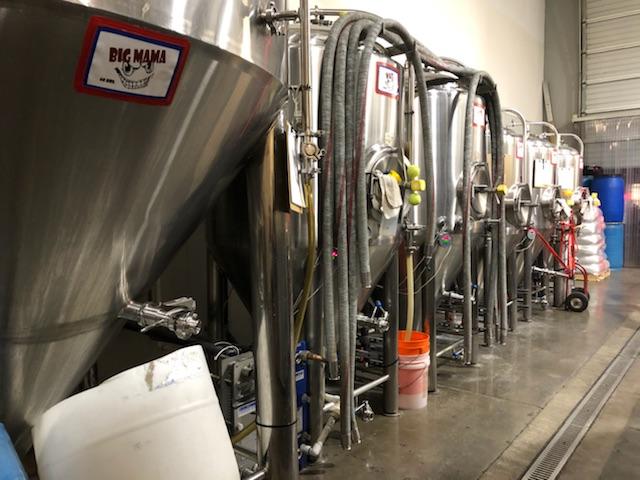 After indulging in the beer you can find a door that leads to the back of the building leading you past their fermenters and equipment. In the back people are gathered and sitting at tables that have kegs with padded seat tops to sit on. Outside a food truck, East Coast Cheese Steaks were serving food to the hungry patrons. They serve food on select Fridays for Freak'n Brewing in a local pairing of businesses. I know this is about beer but the cheesesteaks were fantastic, with a great staff that made sure everyone got their food. The owner came out to shake everyone's hand for purchasing his food. At the tables, the head brewer Bill Nesbitt sat talking to the customers about his beer, beer in general and his process. He was friendly and happy to speak to his customers.
Freak'n Brewing is family run with a courteous staff that is willing answer your questions. The taproom is small but it doesn't feel awkward and claustrophobic. Being small it gives you a personable feel like you're sitting in your dining room with friends. Other breweries come across like a restaurant that just so happens to serve their own beer but Freak'n Brewing gives the vibe that beer is the reason everyone is here and having a great time. This place will be a frequent stop for me.
Craig Maddux was born in Phoenix, Arizona. He has a B.A. in English with an emphasis in Creative Writing and a minor in film and media studies from Arizona State University. Writing has been a passion of his since the time he was able to pick up a pencil. Outside of writing, Craig has recently found a new passion in brewing beer. He likes to call himself a "beer enthusiast," enjoying any type of beer thrown his way, with a preference of one of the many local craft brews that Phoenix has to offer. Craig can be seen around the Phoenix area watching his beloved ASU Sun Devils. Feel free to stop him and say hi if you see him around.